Squirrelly Wrath!!
« previous
next »

Last night when we got home one of the pictures on the bedroom wall was mysteriously very crooked. At first we presumed a cat had ricocheted off it while bug-hunting or something. Then as I went to get a nightshirt out of the dresser could feel something inside the dresser. One of the drawers had been left partially open and it while it wouldn't be out of character for a cat to climb in and get behind the drawers,
tharsis
was behind me in the hall and I was pretty sure
_jazz_
was still sitting on the balcony where I had last seen him. Not only that, but from the motion it didn't really feel as large as a cat.
I started opening drawers and lo! Out sprung a black squirrel! There was a squirrel hanging out in Elaine's underwear drawer (obviously some kind a relative of Foamy). The squirrel darted under the bed and tharsis immediately took up a strategic position by the bed, cutting off the squirrel's escape. Based on my surprised exclamation, "Uagh! There is a squirrel in here!" Elaine came and got in on the action. She took a position by the door with the laundry basket in hand, Tharsis maintained his vigil at the best exit point between the bed and the door, and I got on the bed to do a little reconnaissance.
I could see the squirrel behind the bed. I sent Tharsis in to flush him out and Elaine captured the squirrel under the laundry basket. At which point I tried to take pictures: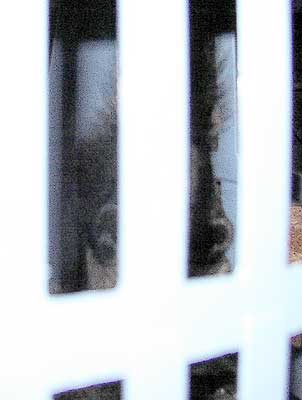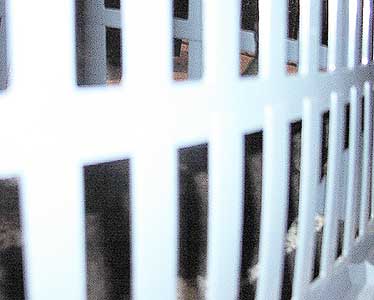 The flash really pissed off the squirrel. It was at that point we discovered the true meaning of squirrelly wrath. It started growling. I've never heard a squirrel make any noise before, let alone growl. It was like a raspy wheeze. This was one seriously angry squirrel.
In a variation on the spider-in-a-jar method of removing pests scaled up to squirrel proportions, we slipped a stretched canvas under the laundry basket and carried the vicious, wheezing squirrel to the balcony, where he was released unharmed into the trees.
tharsis gets extra bonus point for fearlessness in the face of squirrelly wrath and for pack-hunting with the humans. _jazz_ missed the whole thing.
Oringinal post: http://mbarrick.livejournal.com/536709.html