Found Art from a Paranoid Lunatic
« previous
next »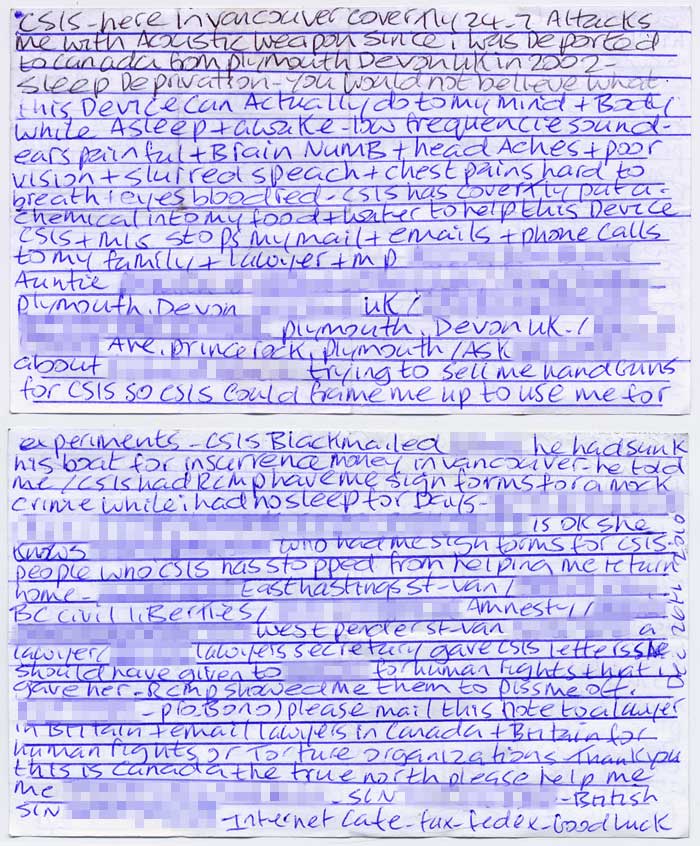 I found this brilliant little note folded up and wedged in by the door buzzer panel today after returning from the store.
The note is about 5" x 3" with this scrawled front and back. I've blurred out all the names, address and other information that could identify someone to protect both the sane and the insane. Verbatim transcript:

CSIS - here in Vancouver covertly 24-7 Attacks me with Acoustic weapon since i was deported to Canada from Plymouth Devon UK in 2002 - sleep Deprivation - you would not believe what this Device can Actually do to my Mind + Body while Asleep + awake - low frequency sound - ears painful + Brain Numb + head Aches + poor vision + slurred speach + chest pains hard to breath + eyes blood red - CSIS has covertly put a - chemical into my food + water to help this Device CSIS + MI5 stops my mail + emails + phone calls to my family + lawyer + MP [name blurred] Auntie [name and address blurred] [name blurred] [company name blurred] [address blurred] Plymouth Devon [postal code blurred] UK / [name blurred] [address blurred] Ave. princerock, Plymouth, Devon / ASK [name blurred] about [name blurred] trying to sell me handguns for CSIS to CSIS could frame me up to use me for experiments - CSIS blackmailed [name blurred] he had sunk his boat for insurrence money in Vancouver - he told me / CSIS had RCMP have me sign forms for a mock crime while i had no sleep for Days - [names and numbers (badge numbers? case numbers? random numbers?) blurred] is OK she knows [name blurred] who had me sign forms for CSIS people who CSIS has stopped from helping me return home - [association name and street number blurred] East hastings St - Van / [name blurred] BC civil liBerties / [name blurred] Amnesty / [name and street number blurred] west pender St - Van [suite number blurred] a lawyer - [name blurred] lawyers secretary gave CSIS letters she should have given to [name blurred] for human rights that i gave her - RCMP showed me them to piss me off. [name blurred] - pro_Bono) please mail this note to a lawyer in Britain + email lawyers in Canada + Britain for human rights or Torture organizations Thank you this is Canada the true north please help me [name blurred]. SIN [number blurred] - British SIN [number blurred] Internet Cafe - fax - fedex - Good luck
I'm pretty sure this would be the same nutter that was spray-painting things about CSIS around the neighbourhood just before and during the Olympics. Remarkable that the symptoms he's listed match up with a crack or meth addiction. 
Oringinal post: http://mbarrick.livejournal.com/958829.html