Vancouver 1962 or so.
« previous
next »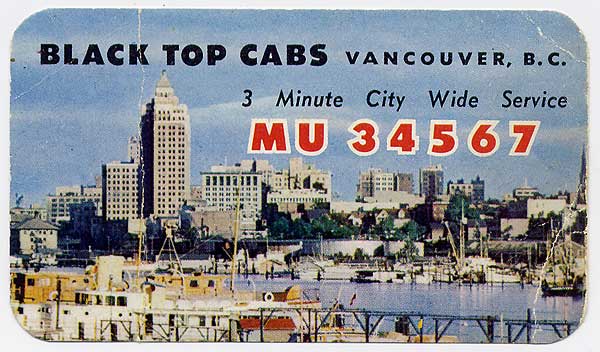 Going back another 30 years from my last couple of posts, this is a Blacktop Cabs receipt card from the early 1960's. The
only
skyscraper visible is the Marine Building at Hastings and Burrard. On the very far right you can see just a sliver of the Hotel Vancouver. Note the oil tanks at the waterfront and just to left of them, in the shadows below the Marine Building, the rail cars. Now there are apartment towers where those tanks were. The marina in the middle foreground is the is the area where the Coal Harbour Community Centre is now. The row of trees with houses behind them that you can see just above the oil tanks would have had Pender Street addresses (up until about 1996, Hastings ended at Bute St.) The brownstone apartment block visible just to the right of the houses, directly below the "5" is the Banffshire Apartments at the corner of Jervis and Melville.
And that phone number still works. These days they take a little longer than three minutes to show up, though.
Oringinal post: http://mbarrick.livejournal.com/883654.html