Gothic Anachronaut's Top-Hat
« previous
next »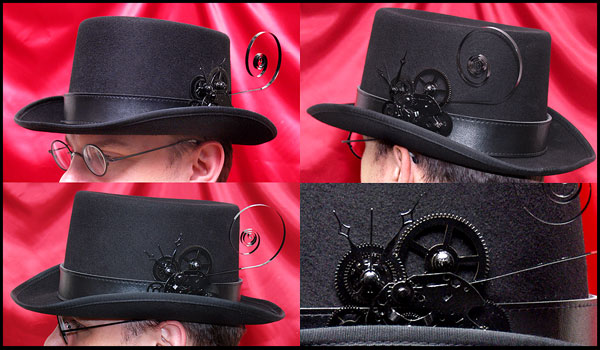 Another steampunk-inspired top-hat. This is a bit more goth, though. I'm actually not a big fan of brown.
The hat itself is premium wool felt with a white satin liner. The hat-band is distressed vintage leather. The gears and clockwork are vintage brass and steel German clock parts painted with gloss-enamel rust paint.
The hands on the clock gear can be moved to any position and the spring steel "feather" has a really fun bounce to it when you move.
The hat was made for sale at Art of Adornment and as of this posting is still available here.
Oringinal post: http://mbarrick.livejournal.com/856738.html