Frankencamera
« previous
next »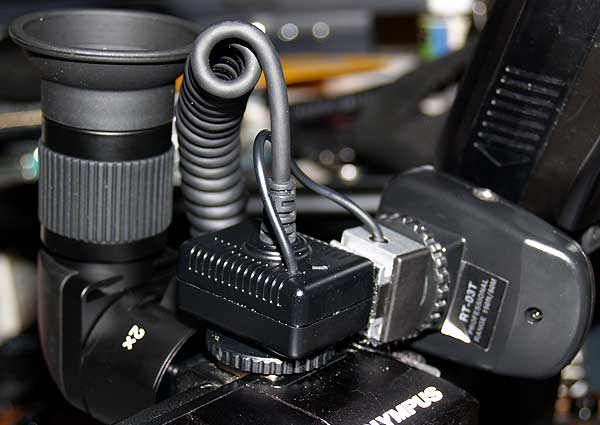 The Big Black Camera of Doom is now Frankencamera. I know I am going to get asked questions about this when I use it at the club on Saturday. I've got two new gizmos, one of which is home-made.
Gizmo #1 is a right-angle view finder. The typical use for this is for getting low, awkward macro shots, which, as you might expect of me, has nothing to do with why I got it. My purpose for this is to make it easier to shoot from (my) chest-height without stooping. On a typical photo-booth night I spend 5-6 hours with my knees half-bent and my back bent and the next day my knees and lower back have something to say about it. No more (hopefully). Perhaps not the most useful gadget in the world, but I had some store-credit to burn up, so...
Gizmo #2 is more interesting and more useful. More than a few times when using a slave-flash or strobe triggered with my radio trigger I've wound up using the nasty little pop-up flash for some extra fill because the radio trigger was occupying the hot shoe and the camera has no PC sync socket. A hot-shoe safe-sync adaptor was an option but not the greatest because the I'd lose the TTL functions of the flash and the assistance it provides to the auto-focus. What I have made here is a Y-adaptor so that the cable still attaches to the flash-bracket with full functionality but I also have a second simple hot-shoe to for the radio trigger. I considered taking in-progress photos for a tutorial, but the honest truth is that what is going on inside that little black box with the two wires coming out the top is probably the ugliest soldering job I have ever done and not fit for sharing. But it works. The flash on the bracket has full communication with camera and the radio trigger trips without fail. This is going to save me needing to set up two strobes for my photo booth and still retain the reliability of the the radio trigger for the strobe. I just need to come up with something better than Velcro dots to hold the second hot-shoe in place
All together it looks absurd - but it's not what the camera looks like that matters, it's what it sees.
Oringinal post: http://mbarrick.livejournal.com/821216.html