More "Naked Apartment" Stuff
« previous
next »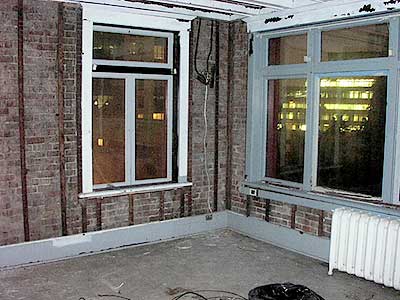 This is the apartment across the hall from us, directly above
Natalie
's old apartment at the time of the fire. All the plaster and slats have been removed from the walls to repair the water damage (the fire was two floors directly above). It looks pretty cool, I think. It's almost a shame to cover the brick up again.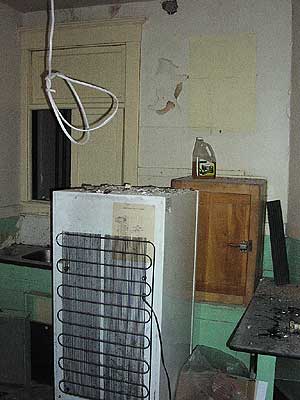 This is the kitchen in the apartment above Nat's old place. Clearly this isn't as far along as the living room, but look at the old ice-box! This one has never been painted. The one in my old apartment had been painted over, and the one in our current apartment is missing the door. I hate to see brilliant old bits of the building like this disappearing, but at least Janice and Jason are being tasteful with what things are replaced with. The sink and toilet they chose for our apartment, for example: they spent the extra money to get Edwardian-styled ones that are entirely in keeping with the building. You'd never know they weren't 100 years old.
I tried to take a peek at the fourth floor yesterday to see how things are progressing up there. Unfortunately it is locked off. I did get to go up there with Janice and saw all the apartments before the restoration started, including the one that burned. I wish I had gotten pictures of it all.
Oringinal post: http://mbarrick.livejournal.com/376117.html