[Gothic BC] New Feature: Photo Tagging!
« previous
next »
I've just completed add a new feature into the photogallery for logged-in users: the ability to tag your own photos.
This has been probably the most asked-for feature and I've been wanting to get it working for some time, mostly because I can't remember everyone's names & nics. It was one thing to manually tag the pictures when there just a few hundred to manage, but now that there are well over 20,000 pictures it's a bit more than I can handle.?
Right now you only have the option to tag yourself using the "I am in this" link: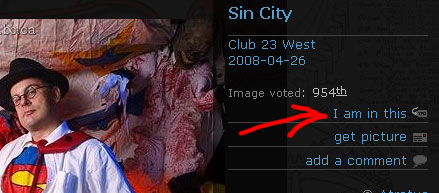 You can also remove a tag of yourself with the "Remove tag" link: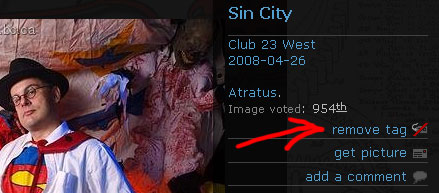 It was a bit of a challenge making the new tagging system work with the old one. You can only remove old tags of yourself if the name in the old tagging system matches your username. If you need me to change your old tags to match your present username, I can do that, just send me a message. With the new tagging system, though, Paid Users and Early Adopters can change their username at will via the "My Account" link in the main menu and all the tagged photos will reflect the change automatically.?
I plan to carry this further in the months to come, just remember: sites like Facebook and MySpace have small armies of programmers working full-time, GothicBC has me, when I have time, at a loss. Considering that, I think I'm doing pretty well ;-)
[ Reposted from my blog on Gothic BC #GothicBC ]