Let's Play Murray-Clarke Connector Connect the Dots...
« previous
next »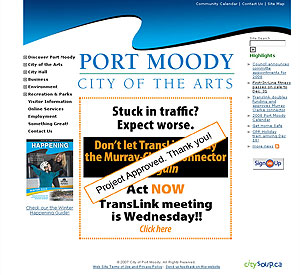 Proclaiming victory on the ugliest municipal homepage this side of Tuttle, OK.
This is a follow up on my earlier post "A Whack of Stupid in Port Moody Over the Murray-Clarke Connector.
Right now Port Moody is proclaiming victory with quite probably the spammiest, ugliest homepage graphic imaginable, and a press release that states,

The city's campaign to explain the urgent need for the twice-delayed Murray Clarke Connector paid off. The campaign included a Council demonstration to expose what would happen if the project was delayed again
So what was council so up in arms about, exactly?
Looking at the meeting minutes for the Translink Board of Directors meetings, that a report dated November 23 was presented to the directors during their December 3rd meeting that first explains

GVTA has partnered with the City of Port Moody (the 'City') to develop the Project ['Project' previously defined as The Murray-Clarke Connector], as confirmed by a Memorandum of Understanding (MOU) authorized by the Board on October 10, 2007 and executed by the GVTA and the City on October 23, 2007...

In accordance with the MOU, a value engineering review was undertaken to:


provide an independent assessment of the cost of the Project; and
identify and recommend any alternatives ("value proposals") that appear to improve value and/or minimize life cycle of the Project
The value engineering (VE) team did their job and

The VE team reviewed all alignments included in the City's 2004 "Murray-Clarke Connector Alignment Options" study, as well as a number of variations developed since then, plus their own suggested modifications ... the VE team has suggested that the Project could taper down to a two-lane crossing of the rail tracks, and that would be adequate to meet reasonable traffic projections for the area. Since this particular value proposal has a significant cost implication (i.e. almost $10 million potential savings), TransLink staff recommend that the traffic projections be investigated in greater detail, perhaps including micro-simulation modelling, so that the functional needs of the Project are well understood.
This is not what the auto-loving, Coquitlam serving, Mayor, Councillors and City Manger of Port Moody wanted to hear.
Councillor Mike Clay, in his own blog complete with the sort of random and excessive capitalization and all-caps furor one more commonly finds on the Geocities pages made by conspiracy nuts, elaborates on the report:

Last week we received information at the city that indicated Translink staff were bringing forward a report at the next Translink board meeting (Dec 12,2007 , 9AM, Richmond City Hall) that would be suggesting cost savings measures for the Murray Clarke could include removal of pedestrian facilities, bike lanes, and, quite amazingly, reducing the overpass from 4 lanes to 2 (one in each direction).  We currently HAVE a 2 lane overpass at Moody Street, so effectively this would accomplish NOTHING.

The information we received went on further to suggest that in fact the Murray Clarke Connector project may not be justified at all, and that there should be an evaluation of the need for this project.

THIS PROJECT WAS IDENTIFIED AS NECESSARY IN THE EARLY 1980's, AND HAS BEEN PART OF VARIOUS PROJECTS AND PLANNING SINCE THE EARLY 1990's.  WE HAVE  NO IDEA HOW ANYONE COULD NOW SUGGEST THIS PROJECT MAY NOT BE NEEDED BASED ON THE EXPONENTIAL GROWTH OF THE NE SECTOR !!
Could it be, maybe, that something might have changed since 1983? In 1983 there was no Skytrain, let alone the Millennium Line to Lougheed Mall that connects to Port Moody via the 97B-line. In 1983 there was no WestCoast Express. Driving was the only option. And is it inconceivable that a connector option allowing traffic flow over the railway tracks that does not involve a poorly marked intersection, two stop signs, poor visibility, and a 270° loop might be able to handle more traffic than the existing crossing?
And what of that "do nothing" option? When in the long history of urban planning has increasing capacity ever done anything but ultimately increase volume and congestion? Port Moody City Manager Gaëtan Royer notes on one of his web pages that his credentials include studying Urban Planning at Queen's University. He should know better.
Cities all over the world have learned this lesson and taken it to heart and are strategically limiting traffic volume to encourage walking, use of transit, and the unthinkable for the suburban mind, actually living close to where one works. Port Moody's idea of sustainable, multi-use development is building towering condos over crappy little retail spaces that house businesses that certainly don't pay anywhere near enough for anyone working there to actually afford to live in the condos. I'm sure no one working at the Mac's in Newport Village actually lives in Newport Village. Rather, they drive in from a rental apartment they can afford, most likely in Coquitlam or Port Coquitlam. Will the housekeeping staff at the new hotel being put in across from the fire hall on Ioco Rd. be living in the adjacent condo tower? Doubtful.  The condo dwellers are by necessity commuters, driving out of Port Moody on a daily basis to places where there are jobs that pay well enough to afford their home. There are only a small handful of jobs in Port Moody that pay well enough for someone to afford to buy a condo in Port Moody and, unfortunately the $140,000+/yr. position of City Manager is already taken by Mr. Royer (all civic employee salaries over $75,000 are a matter of public record).
To be fair though, the well-paid Mr. Gaëtan Royer is doing his part to reduce the number of Port Moody commuters by leveraging his position, which puts "The latest construction technology, code requirements and municipal law information ... at his fingertips" to help the wealthiest of the the condo owners combine two expensive condos in to one, huge, and even more expensive condo.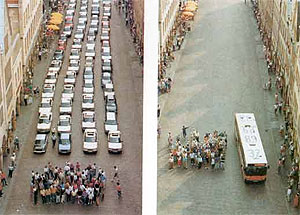 Space required to move 72 people by car vs. moving 72 people by bus.
Of course none of this sideline work would be done while he is on the clock as City Manager and his position as the building inspectors' boss' boss never influences approval of the designs. Besides, isn't it much more important to get one more SUV off the road? One less condo means at least one, perhaps two, fewer commuters.
All and all, something smells rotten, and it isn't just another dead sea-lion washed up on the mud flats. It's "The idea of a new two-lane overpass [that] is now dead," says the city's press release. The press release also talks about how Port Moody urged for "common sense to prevail." After all, why on earth would Translink even consider something as daft as saving $10,000,000, enough money to buy 30 buses? And why would Port Moody want to, "take back the roads as a local responsibility and change the traffic patterns to accommodate Port Moody drivers rather than regional commuters. [Mayor Joe Trasolini]" - surely that is just crazy talk. It makes much more sense for Translink to throw another $25 million at this project, on top of the $25 million already budgeted. $50 million dollars is enough money to buy 166 buses for a total carrying capacity equivalent to almost 10,000 cars. In just three trips with that many buses every single person living in Port Moody could be transported out of town. Every single person in Coquitlam could be moved in ten trips. Someone explain to me the "common sense" in building this four-lane monstrosity instead?
Oringinal post: http://mbarrick.livejournal.com/833023.html