A Whack of Stupid in Port Moody Over the Murray-Clarke Connector
« previous
next »

Yesterday morning (December 10, 2007) Port Moody council shut down lanes of traffic through Port Moody during the morning rush-hour in order to intentionally snarl traffic. The misguided media stunt fails on every imaginable front.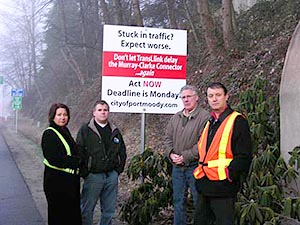 Port Moody mayor Joe Trasolini (far right) with councillors Karen Rockwell, Mike Clay and Bob Elliott with one of th signs posted through Port Moody, 6:45 a.m., December 10, 2007, one hour and fifteen minutes before the delegation deadline, uselessly directing people to the City of Port Moody website.
The timing of the stunt itself is laughable. The deadline for registering to speak at of the pertinent Translink meeting was, as was stated on the Port Moody website that inconvenienced commuters were directed to visit, was 8:00 a.m. Monday morning. The media stunt began at 6:45 a.m. Presuming commuters passing through Port Moody at the time were on their way to jobs with start times between 8:00 a.m. and 9:00 a.m., too late register, one has to wonder what point the stunt actually served.
This becomes even more questionable considering the content of the media release from Port Moody where Mayor Trasolini is quoted as saying [emphasis added]:

"If the four-lane overpass is not approved this week by the TransLink Board Port Moody will have no other recourse than to negotiate removing Murray and Clarke Streets from the major road network, take back the roads as a local responsibility and change the traffic patterns to accommodate Port Moody drivers rather than regional commuters."
I fail to see the problem with that. In what way does that outcome fail to comply with Port Moody's vision statement, "Port Moody, City of the Arts, is a unique, safe, vibrant waterfront city of strong neighbourhoods; a complete community that is sustainable and values its natural environment and heritage character"? In what way does that outcome fail to meet Port Moody's 2006-2008  Council Strategic Plan which states as goals:

"Our plans lead to livable neighbourhoods that come together to create a complete community. Port Moody distinguishes itself as an innovative and visionary leader in planning,"
and,

"Port Moody plans ahead for livability and we are seen as sustainability leaders,"
and most notably,

To sustain livability, we plan ahead and adapt to changing circumstances.

We integrate the concepts of livability and sustainability in all that we do to create a lasting, vibrant economy with a healthy environment, social wellbeing and long term affordability and prosperity.

We foster service that results in a healthy community and we have confirmed this statistically.

In Port Moody, people are able to travel effectively around the community which includes creating pedestrian-oriented shopping & service areas.
St. Johns Street is already a urban desert of 60's-era car culture - six uncrossable lanes lined with car lots and service garages. How will adding adding a second high-volume path through town add to the "heritage character" of Moody Centre? ...but Port Moody city hall likes car culture. This is evidenced by the one of those very car-lots receiving honourable mention in the "Street Appeal" category of the city's own "Spike Award."
It's apparent that Port Moody's real agenda is not to tend to it's own sustainability and environment, but to bend over and be Coquitlam's bitch, catering to the surrounding municipality's hordes of gas-sucking, SUV driving commuters on their way to Burnaby and Vancouver. If Port Moody city hall really cared about their own community they'd be following the lead set by Vancouver decades ago when the city had the good sense to learn from Los Angeles' mistakes and rejected freeways and focused on transit. This effort would be better placed in fighting tooth and nail to reduce through traffic and pollution by getting the Evergreen LRT Line completed.
In the end, the only purpose of this stunt would be to get Mayor Trasolini on the TV as "the good guy", which ultimately is nothing more than a career advancing move for Port Moody City Manager Gaëtan Royer.
Oringinal post: http://mbarrick.livejournal.com/830635.html