The Empress in Infra-Red
« previous
next »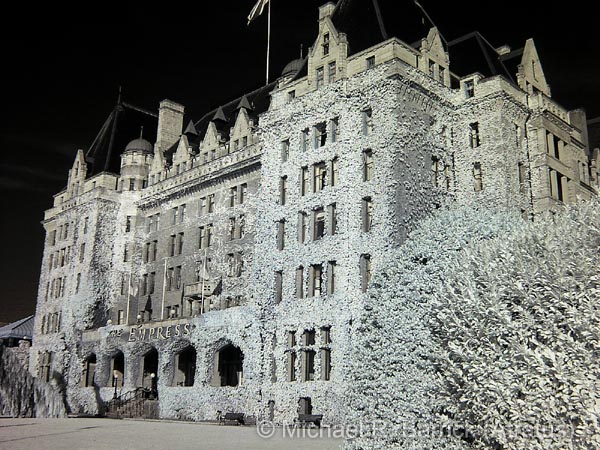 From the south-west corner, looking north-east.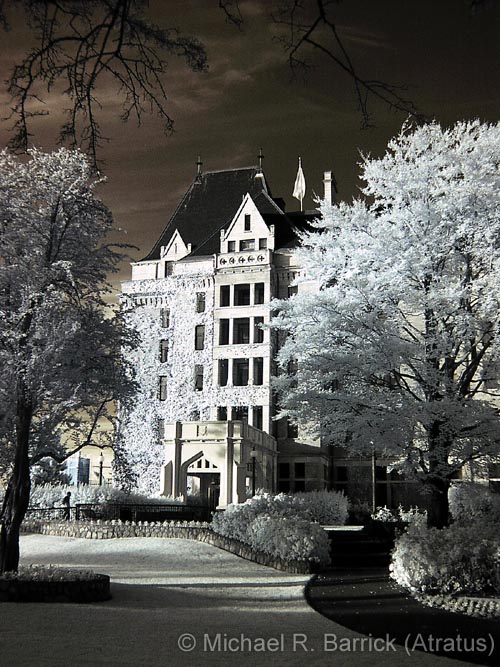 From the rose gardens on the south lawn, facing north-north-west.
The Empress Hotel was built in 1908 as part of the Canadian Pacific Railway's chain of luxury hotels. The land it is sitting on is fill. The street in front, Government Street, was a bridge across James Bay when construction started. The city of Victoria originally granted the land that the natural history museum is now on to CP on the condition that they build and operate a hotel in the city for a minimum of fifty years. The architect, Francis Rattenbury (who also designed the provincial legislature buildings in Victoria and the fantastic power plants half way up Indian Arm), decided that filling the bay and parking the hotel centred in Victoria's inner harbour would make for a much more impressive presence. The original hotel (the part in these pictures) and the extension built in 1912 rest on Australian iron-wood pilings that are actually insufficient for the weight of the building - the hotel has settled about half a metre since it was constructed. I pointed out the repairs in the masonry to Elaine while we were there, but didn't think to take a picture. When the conference centre was added behind the hotel in the late 1980's stainless-steel pilings were driven nearly twice as deep as the pilings bearing the hotel and they only carry a fraction of the weight.
Oringinal post: http://mbarrick.livejournal.com/774842.html