Dead Bus - The Whole Story
« previous
next »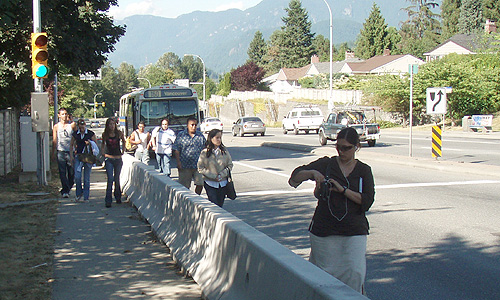 The bus decided to die about halfway along the Barnett Highway today. For those not familiar with Vancouver, the Barnett Highway is a coastal road running along the north side of Burnaby Mountain. It was originally built for military purposes and for the most part there is bugger all along it since what little level land there is is mostly used up by the road and a rail line. It's a pretty crappy place to be stranded.
Fortunately after the bus initially died the driver was able to get it started again and quite literally stagger on for several kilometres, with the engine dying again a couple times along the way. The driver was trying to get to the end of the highway and the beginning of Hastings Street. We didn't quite make it. We were still about half a kilometre away from Hastings when the engine completely gave up the ghost. Not great, but not as bad as it could have been. If the driver had not been able to squeak a few more kilometres out of the engine is would have meant waiting half an hour in 35° C heat for the next bus.
In my game of transit roulette, I keep betting red or black, and the marble keeps landing on 0 and 00.
When I used to commute from Kits to SFU I honestly don't remember it being this annoying and unreliable. It still sucked, but it really does seem worse now.
Oringinal post: http://mbarrick.livejournal.com/754085.html