Artist's Bio & Statement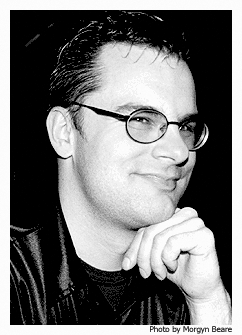 Michael was born and raised in the city of Duncan on Vancouver Island. He began his formal, post-secondary art-education at Malaspina College in Nanaimo, B.C., later moving to Vancouver to attend Simon Fraser University and complete his B.A. in Visual Art (1994). While he has participated in group shows in civic and academic galleries such as the foyer of the Cowichan Theatre (Duncan, 1985), the Nanaimo Art Gallery (Nanaimo, 1990), and the Simon Fraser University Gallery (Burnaby, 1993), Michael has preferred over the last decade to show in café galleries, nightclubs, and alternative venues. Some of these venues in Vancouver have included the Atlantis nightclub in Yaletown, The Cave alternative theatre space off Commercial Drive, and Ironworks Studios in Gastown, and 901 Main Street just outside Chinatown.
Well before his formal university education, Michael's artistic influences developed along seemingly disparate lines. For example, he has had an interest in science and mathematics since an early age and began working with computers in the late 1970's, and studied computer science at the university level concurrent to working toward his visual art degree. At the same time he has long been interested in the "Bohemian" artists of the "Belle Époque" of 1890's Paris— an interest that inspired him at the age of eleven to separate from a tour group in Montmartre to explore "where the artists really lived" on his own. Michael's continued interest in Bohemianism also manifests itself in his involvement in the contemporary alternative nightlife of Vancouver as a regular photographer and, on occasion, traveling as far afield as Chicago, Toronto, and New York to find source material for his Bohemian inspired work.
These and other varied threads of interest have come together in several different types of work. They include digital work based on 19th century stereographs, nightclub paintings inspired by Renoir and the early work of Picasso that are worked from his own digital photographs, and of course the photographic work unto itself. Michael's photography has been featured on band websites and album/CD-insert art, and used in magazine, newspaper, handbill and poster advertising. Recent publication includes the Vancouver Sun, Fiend Magazine (Australia), and Keyboard Magazine (U.S.). Some of his early "landscape" work is painted from images generated by computer programs he wrote himself and these lead directly into his more recent "forest" series of paintings, inspired by the early work of Piet Mondrian. His portraiture is a synthesis of Mediæval (Late Gothic) painting and 19th century Impressionism and Expressionism. His drawing styles are diversely inspired by the "low brow" art popular in the alternative nightclub community and the various late 19th century and early 20th century illustrators.
Michael's paintings, drawings and photographs have sold to private collectors from Vancouver to New York. His on-line portfolio can be viewed at http://www.mbarrick.net and he can be reached at mbarrick@mbarrick.net.
&nbsp